Transforming Homes: Kitchen Remodel near Surrey, BC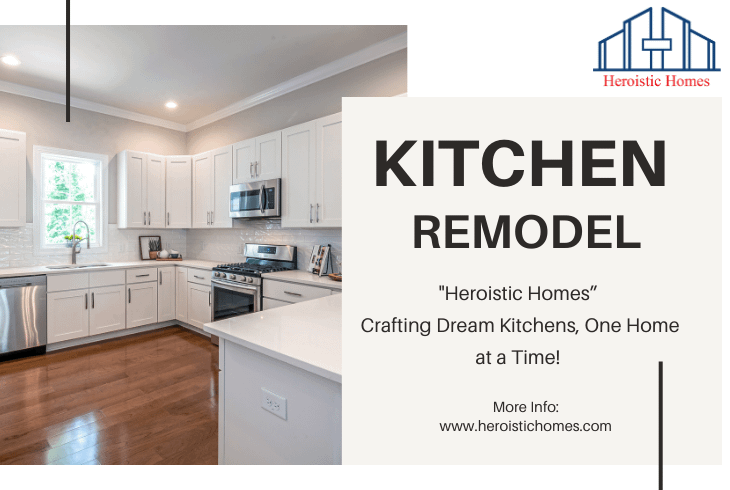 Residential Space
September 5, 2023
The heart of any home is its kitchen, and for homeowners in Surrey, BC, Heroistic Homes is making dreams come true with their remarkable kitchen remodeling services. A beautifully designed and functional kitchen can significantly enhance the overall aesthetics and value of a house. If you're considering a kitchen remodel in the Surrey area, Heroistic Homes is the team to turn your vision into reality.
The Heroistic Homes Difference:
Heroistic Homes has earned a stellar reputation in Surrey and its surrounding areas for its top-notch kitchen remodeling services. What sets them apart from the rest is their commitment to excellence, attention to detail, and dedication to customer satisfaction. Here are some reasons why Heroistic Homes stands out:
Experienced Professionals: Heroistic Homes boasts a team of experienced and skilled professionals who are passionate about creating exceptional kitchen spaces. They have a deep understanding of design principles, construction techniques, and the latest trends in kitchen remodeling.
Customized Designs: One size doesn't fit all when it comes to kitchen remodeling. Heroistic Homes takes a personalized approach to every project. They work closely with homeowners to understand their unique needs, preferences, and budget constraints, ensuring that the final design aligns perfectly with their vision.
Quality Materials: Quality is paramount when it comes to kitchen remodels. Heroistic Homes uses only the finest materials, from counter tops and cabinets to flooring and fixtures. They partner with trusted suppliers to ensure durability and longevity in every project.
Innovative Solutions: Heroistic Homes stays up-to-date with the latest kitchen design trends and technological advancements. They integrate innovative solutions, such as smart appliances and energy-efficient lighting, to make your kitchen not only aesthetically pleasing but also functional and sustainable.
Transparent Communication: Clear and open communication is vital throughout the remodeling process. Heroistic Homes maintains transparency with their clients, providing regular updates on project progress, timelines, and any potential changes.
The Kitchen Remodeling Process:
Heroistic Homes' kitchen remodeling process is designed to be hassle-free and efficient:
Consultation: The journey begins with a consultation where you discuss your ideas, budget, and goals with their experts. They'll offer suggestions and help refine your vision.
Design: Heroistic Homes' designers will create a detailed plan, including layouts, color schemes, and material choices. You'll have the opportunity to review and make adjustments.
Construction: Once the design is finalized, the skilled craftsmen at Heroistic Homes will bring your dream kitchen to life, adhering to high-quality standards and local building codes.
Quality Assurance: Throughout the construction phase, Heroistic Homes ensures rigorous quality control to guarantee that every aspect of your new kitchen meets their exacting standards.
Completion: The project isn't complete until you're satisfied. Heroistic Homes will do a final walk through with you to make sure everything is perfect, down to the last detail.
Conclusion:
Heroistic Homes is the trusted choice for kitchen remodels near Surrey, BC. Their commitment to craftsmanship, innovation, and customer satisfaction has made them a leading name in the industry. If you're ready to transform your kitchen into a functional and beautiful space that reflects your style, Heroistic Homes is the team to make it happen. Don't just dream about your ideal kitchen; let Heroistic Homes bring it to life. Contact them today to schedule a consultation and take the first step toward your kitchen renovation journey. Your dream kitchen awaits!