Elevate Your Space with Professional Home Painting Services by Heroistic Homes in Surrey, BC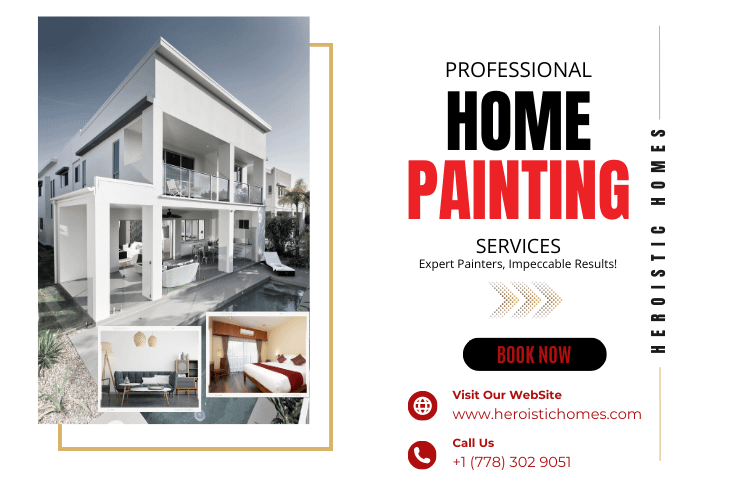 Commercial Construction, Residential Space
August 22, 2023
Get a fresh new look with Heroistic Homes' professional home painting services in Surrey, BC. Expert painters, impeccable results!
A fresh coat of paint can work wonders for a home, transforming it from dull and mundane to vibrant and inviting. But achieving a flawless and lasting paint job requires more than just a brush and a can of paint. This is where professional home painting services come into play. In Surrey, BC, Heroistic Homes has emerged as a leading name in the realm of home improvement, offering top-notch painting services that breathe life into living spaces.
The Art of Home Painting
Painting is not just a task; it's an art that requires precision, attention to detail, and a deep understanding of colors, textures, and finishes. Professional painters at Heroistic Homes possess the expertise and knowledge to turn your vision into reality. Whether you're looking to revamp your interior, exterior, or both, their team of skilled painters will create a masterpiece that reflects your style and personality.
Why Choose Heroistic Homes?
Expertise: Heroistic Homes brings years of experience to the table, ensuring that every stroke of paint is executed with finesse. Their painters are well-versed in various painting techniques, enabling them to tackle even the most complex projects with ease.
Quality Materials: The team at Heroistic Homes understands that the longevity and beauty of a paint job depend on the quality of materials used. They source high-quality paints, primers, and finishes that result in a flawless finish and long-lasting results.
Customization: Your home is an extension of your personality, and your paint job should reflect that. Heroistic Homes offers personalized consultation to understand your preferences and suggest color palettes, textures, and finishes that align with your vision.
Attention to Detail: From meticulous surface preparation to ensuring clean lines and consistent coverage, Heroistic Homes' painters pay attention to every detail. This commitment to precision sets their work apart and results in impeccable outcomes.
Timely Execution: Home improvement projects can be disruptive, but Heroistic Homes values your time. They work diligently to complete projects within the promised timeline, allowing you to enjoy your newly painted space sooner.
Enhanced Curb Appeal: The exterior of your home is its first impression. With Heroistic Homes' exterior painting services, you can elevate your curb appeal, boost your home's value, and make a statement in your neighborhood.
Professionalism: From the initial consultation to the final brushstroke, Heroistic Homes maintains a high level of professionalism. Their team respects your space, ensuring that the painting process is seamless and hassle-free.
Affordability: Quality home painting doesn't have to break the bank. Heroistic Homes offers competitive pricing without compromising on the quality of work, making professional painting services accessible to homeowners in Surrey, BC.
Conclusion
Heroistic Homes in Surrey, BC, stands as a beacon of excellence in the realm of home painting services. With a team of skilled professionals, a commitment to quality, and a passion for transforming spaces, they have earned a reputation for turning houses into homes through the art of paint. If you're looking to enhance the aesthetic appeal and value of your property, Heroistic Homes should be your go-to choice for professional home painting services. Experience the difference of a well-executed paint job and take the first step towards creating a space that truly reflects your style and personality.