Enhancing Your Living Space: Home Additions Renovations in Surrey BC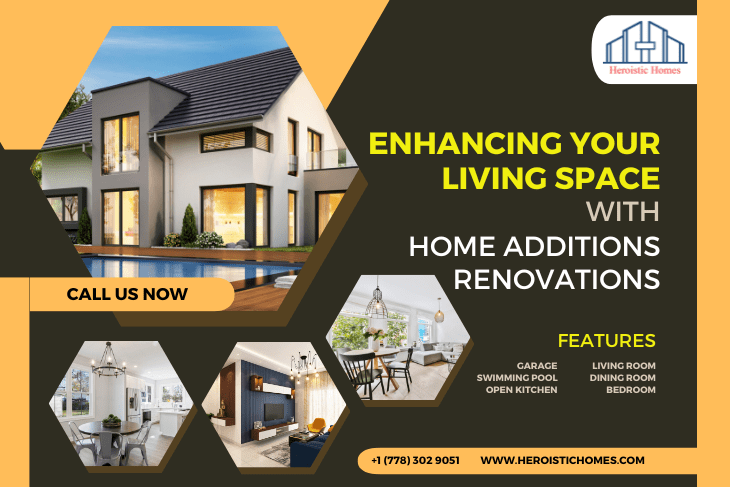 Residential Space
July 7, 2023
In the bustling city of Surrey, British Columbia, homeowners are continually seeking ways to transform their houses into personalized sanctuaries. With the help of Heroistic Homes, a renowned home renovation company, the possibilities are endless. From adding extra square footage to revamping existing spaces, home additions renovations in Surrey BC offer a remarkable opportunity to create a dream home that suits individual needs and preferences.
This blog post will delve into the benefits, popular options, and essential considerations when embarking on a home addition renovation project in Surrey, BC.
1. Why Choose Home Additions Renovations ?
The decision to pursue a home addition renovation is a significant investment that yields numerous benefits. Firstly, it offers the opportunity to increase living space, making room for expanding families, hobbies, or entertaining guests. A well-designed addition can significantly enhance functionality and improve the overall flow of the home. Moreover, adding extra square footage can increase the property's value, making it a wise long-term investment.
2. Popular Home Addition Options
a) Second-Story Additions: For homeowners seeking to maximize space without expanding their home's footprint, second-story additions are an excellent choice. This option adds valuable square footage to accommodate growing families or create dedicated spaces for offices, playrooms, or guest suites.
b) Sunroom Additions: Perfect for enjoying natural light and the beauty of the outdoors, sunroom additions provide a peaceful oasis that can be enjoyed year-round. These versatile spaces can serve as relaxation areas, home offices, or even indoor gardens.
c) Garage Conversions: Transforming an underutilized garage into functional living space is a cost-effective option for expanding the home. This type of addition can be customized into a home gym, a workshop, an extra bedroom, or a cozy family room.
d) Basement Renovations: Unlock the potential of the basement by transforming it into a livable and functional area. From creating a home theater to a game room or an additional suite for guests, basement renovations offer endless possibilities.
3. Considerations for Home Addition Renovations
a) Budget Planning: Prioritize and allocate a realistic budget for your home addition project. Consider consulting with professionals from Heroistic Homes to get an accurate estimate of costs, including design, materials, and construction.
b) Permits and Regulations: Familiarize yourself with local building codes, permits, and regulations required for home additions in Surrey, BC. Heroistic Homes can guide you through the process and ensure compliance with all necessary legal requirements.
c) Design and Layout: Work closely with a professional design team to create a cohesive plan that aligns with your vision, functional needs, and aesthetic preferences. Heroistic Homes' expert designers can help you optimize the layout and make the most of your new addition.
d) Material Selection: Choose high-quality materials that suit your desired style and budget. Consider factors such as durability, maintenance requirements, and eco-friendliness.
e) Timelines and Project Management: Collaborate with Heroistic Homes to establish realistic timelines for your home addition project. Experienced project managers will oversee every aspect, ensuring efficient execution and timely completion.
Conclusion:
Home additions renovations in Surrey BC offer homeowners an incredible opportunity to transform their houses into customized, functional, and aesthetically pleasing spaces. With the expertise and guidance of Heroistic Homes, the journey from concept to completion becomes a seamless and enjoyable experience. Whether it's a second-story addition, a sunroom, a garage conversion, or a basement renovation, the possibilities are boundless. Embrace the opportunity to enhance your living space, increase the value of your property, and create the home of your dreams with Heroistic Homes' exceptional home addition renovation services in Surrey, BC.