Choosing the Right Bathroom Remodeling Contractor in Surrey BC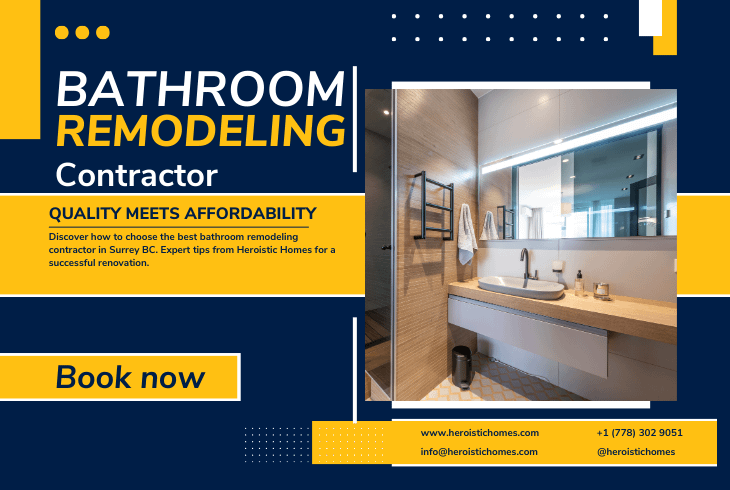 Residential Space
September 19, 2023
Are you considering a bathroom renovation project in Surrey, BC? One of the most crucial decisions you'll make is choosing the right remodeling contractor. Your contractor plays a significant role in the success of your project, from the quality of work to the overall experience. To ensure a smooth and successful bathroom renovation, here are some valuable tips and considerations for selecting the best contractor for your project, provided by Heroistic Homes in Surrey, BC.
1. Research and Recommendations:
Begin your search by asking for recommendations from friends, family, and neighbors who have recently completed bathroom renovations. Word-of-mouth referrals can be incredibly valuable.
Use online platforms and review websites to research local contractors in Surrey BC. Look for companies with positive reviews and a solid reputation.
2. Check Licensing and Insurance:
Verify that the contractor holds the necessary licenses and permits required in Surrey BC. A licensed contractor is more likely to comply with local building codes and regulations.
Ensure the contractor carries liability insurance and workers' compensation insurance. This protects you from liability in case of accidents or damage during the project.
3. Experience and Expertise:
Assess the contractor's experience in bathroom renovations specifically. A contractor with a track record of successful bathroom projects is likely to have the expertise needed for your job.
Ask for examples of their past work, including before-and-after photos of bathroom renovations they've completed in Surrey BC.
4. Request Multiple Quotes:
Obtain quotes from several contractors to compare prices and services. Be cautious of quotes that seem too good to be true, as they may indicate low-quality work or hidden costs.
Ensure that the quotes include a detailed breakdown of costs, materials, and timelines for the bathroom renovation.
5. Communication and Collaboration:
Effective communication is key to a successful renovation project. Evaluate how well the contractor communicates with you during the initial consultation and throughout the planning stages.
Discuss your ideas, goals, and expectations openly with the contractor. A good contractor will listen to your input and offer suggestions based on their expertise.
6. Check References:
Request references from the contractor and take the time to contact previous clients. Ask about their experiences, the quality of work, and if the project was completed on time and within budget.
7. Contracts and Warranties:
Ensure that all agreements, including project details, costs, timelines, and warranties, are documented in a written contract. Read the contract thoroughly before signing.
Clarify warranty terms and what is covered in case issues arise after the renovation is completed.
8. Payment Schedule:
Be cautious of contractors who request a large upfront payment. Instead, establish a fair payment schedule that aligns with project milestones and completion.
9. Local Knowledge:
A contractor familiar with Surrey BC's local regulations, suppliers, and building practices can navigate the renovation process more efficiently.
10. Gut Feeling:
Trust your instincts when selecting a contractor. Choose someone you feel comfortable working with and who shares your vision for the project.
Selecting the right bathroom remodeling contractor in Surrey BC is a crucial step in achieving your dream bathroom. By following these tips and considering Heroistic Homes for your renovation needs, you can ensure a successful and stress-free bathroom renovation experience. Remember, the right contractor can turn your vision into reality and make your bathroom the oasis you've always wanted.