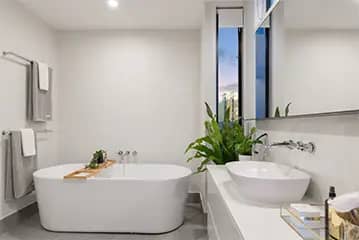 Bathroom Remodeling & Renovators Surrey
Unlock the full potential of your space with our remodeling and renovation services. Trust our expertise to bring your vision to life with precision and quality craftsmanship. From small updates to full bathroom renovations, we provide beautiful, durable results, custom changes, budget-friendly prices, flawless workmanship, professional designers, clothing rods, drawers, open shelves, cabinets and more.
We have been in the business for more than 20 years and our experience has shown us that homeowners are looking for a way to make their bathrooms look modern and attractive without spending too much time or money on the project. Our team will help you with all your bathroom remodelling needs whether you have a small project or a large one. We offer free estimates so you can see how much it will cost before we start working on your bathroom renovation project.
Are you dreaming of a stunning bathroom that not only reflects your personal style but also adds value to your home? Look no further! At Heroistic Homes, we take pride in being the go-to experts for bathroom remodeling and renovations in Surrey. Our team of skilled professionals is committed to transforming your ordinary bathroom into a space that exudes elegance, functionality, and comfort.
Why Choose Heroistic Homes for Your Bathroom Remodeling?
1.Unparalleled Expertise: With years of experience in the industry, our team brings a wealth of knowledge and expertise to every project. Whether it's a small bathroom update or a complete overhaul, we handle each aspect with precision and attention to detail.
2.Tailored Solutions: We understand that every homeowner's vision for their bathroom is unique. That's why we offer tailored solutions to suit your specific needs and preferences. Our designers work closely with you to understand your requirements and bring your ideas to life.
3.Quality Craftsmanship: At Heroistic Homes, quality is our priority. We source premium materials and work with skilled craftsmen to ensure that the end result exceeds your expectations. Our commitment to excellence is evident in every aspect of our work.
4.Transparent Process: We believe in transparency and clear communication throughout the remodeling journey. From the initial consultation to the final touches, we keep you informed about the progress of the project and welcome your feedback at every stage.
5.On-Time, On-Budget: We value your time and investment. Our team strives to complete the project within the agreed-upon timeline and budget, without compromising on quality. Rest assured, there are no hidden costs or surprises along the way.
Our Bathroom Remodeling Services Include:
1.Conceptualization and Design: Our design team works closely with you to understand your vision, lifestyle, and preferences. We develop a custom design plan that optimizes the available space and maximizes functionality while reflecting your style.
2.Bathtub and Shower Upgrades: Whether you desire a luxurious bathtub or a modern walk-in shower, we offer a wide range of options to suit your taste and requirements.
3.Vanity and Countertop Installation: Enhance the beauty and functionality of your bathroom with elegant vanity installations and durable countertops.
4.Flooring and Tile Work: From classic ceramic tiles to trendy patterns, we provide expert installation of flooring and tiles to elevate your bathroom's aesthetics.
5.Lighting and Fixtures: Create the perfect ambiance with our carefully selected lighting fixtures, mirrors, and accessories.
6.Plumbing and Electrical: Our licensed professionals ensure that all plumbing and electrical work is handled safely and efficiently.
Transform Your Bathroom with Heroistic Homes:
Ready to turn your bathroom dreams into reality? Contact us today to schedule a consultation with our bathroom remodeling experts. Let Heroistic Homes be your trusted partner in bringing sophistication, style, and functionality to your bathroom space in Surrey. Discover the difference our passion for excellence can make in transforming your home, one project at a time!