The Best Plumber & Plumbing Contractor in Surrey – Heroistic Homes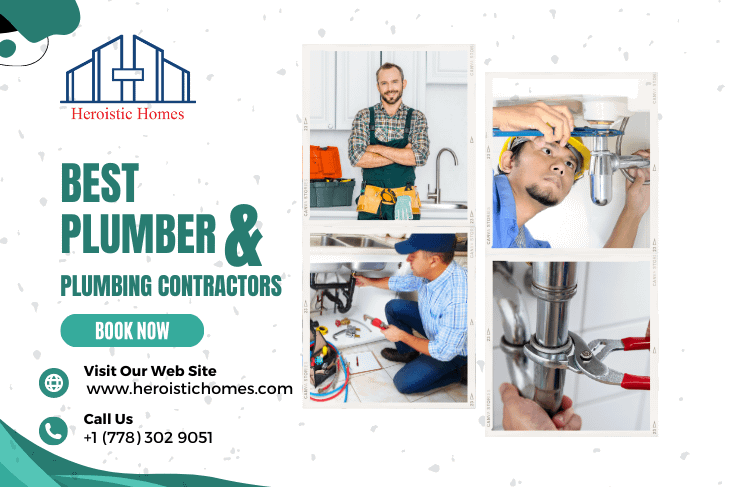 Commercial Construction, Residential Space
August 7, 2023
Looking for the best plumber in Surrey? Discover why Heroistic Homes is the top choice! Experienced, reliable, and committed to customer satisfaction.
When it comes to maintaining and upgrading our homes, finding reliable and skilled professionals is of utmost importance. One of the most crucial services homeowners require is plumbing. From minor repairs to major installations, a reliable plumber is a homeowner's best friend. In Surrey, a city known for its vibrant community and beautiful landscapes, Heroistic Homes has emerged as the go-to plumbing contractor, providing top-notch services that have earned them a stellar reputation. In this blog, we will explore why Heroistic Homes is the best plumber and plumbing contractor in Surrey.
1. A History of Excellence
Heroistic Homes has been serving the Surrey community for over two decades. With a rich history of excellence and a dedication to customer satisfaction, they have consistently proven themselves as the leading plumbing service provider in the region. Their team of skilled and experienced plumbers has tackled various plumbing challenges, making them equipped to handle any plumbing issue you might encounter in your home.
2. Highly Trained Professionals
One of the key factors that set Heroistic Homes apart from other plumbing contractors is their commitment to hiring highly trained professionals. Each plumber at Heroistic Homes undergoes rigorous training and possesses the necessary certifications to ensure that they deliver high-quality services. This dedication to training ensures that the team can handle even the most complex plumbing projects with precision and efficiency.
3. Comprehensive Plumbing Services
Heroistic Homes provides a wide range of plumbing services, catering to the diverse needs of homeowners in Surrey. Whether it's fixing leaky faucets, repairing damaged pipes, installing new plumbing fixtures, or conducting thorough plumbing inspections, they have got it all covered. Their versatility and expertise make them a one-stop solution for all your plumbing requirements.
4. Cutting-Edge Equipment and Technology
To deliver top-notch plumbing solutions, Heroistic Homes invests in the latest tools and technology. By employing cutting-edge equipment, they can diagnose issues more accurately and implement efficient solutions promptly. This not only saves time but also ensures that your plumbing problems are resolved with the utmost precision.
5. Emphasis on Customer Satisfaction
At Heroistic Homes, customer satisfaction is the top priority. Their friendly and responsive customer support team is always available to address your queries and concerns promptly. Moreover, their plumbers take the time to communicate with homeowners, discussing the problem at hand and providing detailed explanations about the solutions proposed. This transparent approach fosters trust and ensures that customers are aware of the work being done in their homes.
6. Competitive Pricing and Upfront Quotes
Heroistic Homes believes in fair and transparent pricing. They offer upfront quotes for their services, ensuring that you are aware of the costs involved before any work begins. There are no hidden charges or surprises, making them a trustworthy and reliable plumbing contractor.
7. Positive Customer Reviews
Customer reviews speak volumes about a company's performance and credibility. Heroistic Homes boasts an impressive collection of positive customer reviews and testimonials, reflecting their dedication to delivering exceptional plumbing services consistently.
Conclusion
Finding the best plumber and plumbing contractor in Surrey is no longer a daunting task, thanks to Heroistic Homes. With their unmatched history of excellence, highly trained professionals, comprehensive services, cutting-edge technology, and commitment to customer satisfaction, they have rightfully earned their title as the leading plumbing contractor in the region. If you're in need of reliable and skilled plumbing services in Surrey, Heroistic Homes should undoubtedly be your first choice.