Elevate Your Space: Bathroom Renovations in Surrey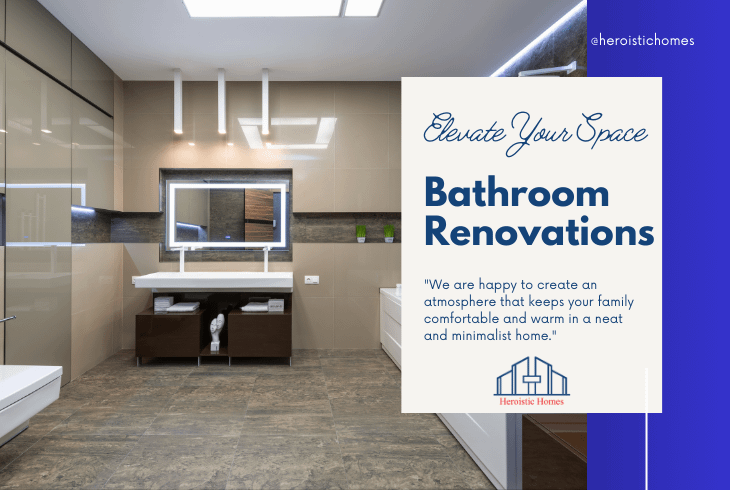 Residential Space
September 27, 2023
Are you tired of stepping into a dated and uninspiring bathroom every morning? Do you dream of a relaxing retreat right in your own home? Heroistic Homes is here to turn your bathroom renovation dreams into reality, right here in Surrey, BC. In this blog, we'll explore the transformational journey of revamping your bathroom space with Heroistic Homes, a local renovation expert.
The Bathroom: Your Personal Oasis
Your bathroom is more than just a functional space; it's your sanctuary, your personal bathroom. It's where you start and end your day, making it essential for this space to be inviting, comfortable, and stylish. But if your bathroom has seen better days, it's time for a renovation.
Welcome to Heroistic Homes
Here you know more about Heroistic Homes offers a complete range of residential and commercial construction services. We have a passionate team of construction professionals who are dedicated to building something new—and we're not just talking about houses. We're talking about the future of construction.
We believe that the best way to expand your horizons is to build on them, and that's why we've designed a multi-level process that can handle anything from a single-family home to an entire neighborhood.
We love what we do, and we want you to love it too. That's why we focus on getting the details right starting from the roof shingles all the way down to the flooring tiles, every detail matters!
Our Services
1. Home Additions Renovations
2. New Construction Homes
3. Electrical Contractors
4. Best Plumbers & Plumbing Contractors
5. Professional Home Painting Services
6. Exterior Painters
7. Doors and Windows Surrey
8. Residential Flooring Installation
9. Bathroom Renovation
10. Kitchen Remodel
Why Choose Heroistic Homes?
Heroistic Homes is a trusted name in Surrey, BC, with a reputation for turning bathrooms into stunning works of art. Here's why they're the perfect choice for your bathroom renovation:
1. Talented Professionals: We have a team of experts who are highly passionate about their craft and ensure to provide supreme quality services.
2. Personalized Approach: Every homeowner is unique, and Heroistic Homes tailors their approach to your specific needs and style preferences.
3. Quality Craftsmanship: Quality is a top priority. Heroistic Homes uses the finest materials and the most skilled craftsmen to bring your vision to life.
4. Innovative Designs: They stay on top of the latest design trends, ensuring your bathroom is not just contemporary but also functional.
5. Budget-Friendly: Heroistic Homes works with your budget without compromising on quality, ensuring you get the best value for your investment.
6. Sustainable Construction Solution: Heroistic Homes offers green building solutions and sustainable construction considering the present and the future. We aim to build cost effective and energy efficient construction solutions.
7. High End and Clean Work: Our squad of professionals provide top-notch construction tips and designing ideas to give aesthetically appealing look to the project.
The Heroistic Homes Renovation Process
A bathroom renovation is a significant undertaking, but Heroistic Homes makes it a seamless experience:
1. Consultation: Their experts sit down with you to understand your vision, needs, and budget.
2. Design: They create a detailed design plan, incorporating your ideas and their expertise.
3. Materials Selection: Heroistic Homes helps you choose the best materials that match your style and budget.
4. Construction: Their skilled team works diligently to bring your dream bathroom to life, with minimal disruption to your daily routine.
5. Completion: They ensure every detail is perfect, right down to the finishing touches.
The Benefits of a Heroistic Homes Bathroom Renovation
1. Increased Home Value: A renovated bathroom significantly increases the value of your home.
2. Enhanced Comfort: Your new bathroom will be a comfortable and functional space that suits your lifestyle.
3. Energy Efficiency: With modern fixtures and energy-efficient options, you can save on utility bills.
4. Stunning Aesthetics: Your bathroom will be a showstopper, impressing guests and offering you a daily dose of luxury.
A Bathroom for Every Style
Heroistic Homes doesn't just offer cookie-cutter solutions. They can transform your bathroom into the style of your dreams, whether it's a spa-like retreat, a sleek modern space, a rustic escape, or a timeless classic.
Your bathroom should reflect your personality and provide the comfort you deserve. Heroistic Homes ensures that your bathroom renovation in Surrey, BC is a journey to a more beautiful, comfortable, and valuable home. Don't wait; turn your bathroom into your personal oasis today with Heroistic Homes.
Conclusion
In conclusion, Heroistic Homes is your trusted partner for a bathroom renovation in Surrey, BC, where your vision meets expert craftsmanship. Say goodbye to your outdated, uninspiring bathroom and say hello to a personal oasis that complements your style and enhances your daily life.
With Heroistic Homes, you're not just getting a renovation; you're getting an experience that transforms your space into something extraordinary. Your home's value, comfort, and aesthetics will receive a significant boost, and you'll be proud to showcase your revamped bathroom to friends and family.
So, if you're ready to embark on this exciting journey of bathroom transformation, contact Heroistic Homes today. Let them turn your bathroom dreams into reality, right here in Surrey, BC.