Surrey BC's Exquisite Exterior House Painting Ideas : Heroistic Homes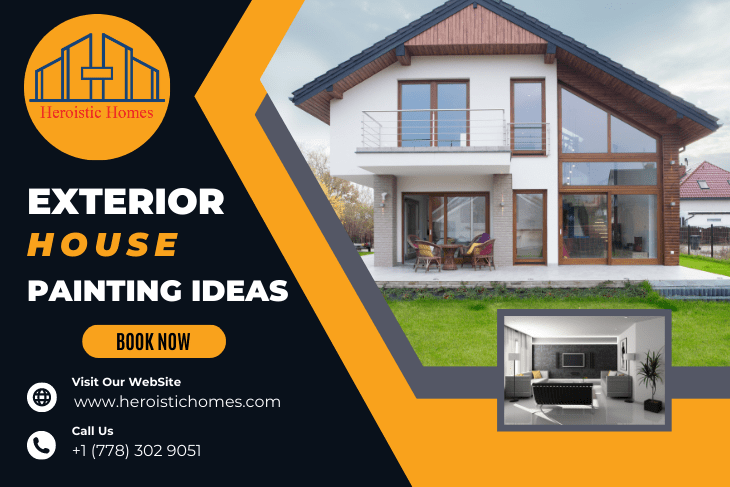 Residential Space
July 31, 2023
Heroistic Homes: Surrey BC's Exquisite Exterior House Painting Ideas
When it comes to creating a lasting impression with exterior house painting, the exterior of your home plays a pivotal role. A beautifully painted house not only enhances the curb appeal but also reflects the homeowner's personality and style. Heroistic Homes, a renowned home improvement company in Surrey BC, understands the importance of a well-maintained exterior and offers a plethora of innovative and inspiring exterior house painting ideas to transform your dwelling into a true masterpiece.
1. Colors That Speak Volumes
Choosing the right color palette is crucial in determining the overall look and feel of your home's exterior. Heroistic Homes' team of experts recommends considering the architectural style, surroundings, and personal preferences before making a decision. While classic white exudes elegance and timelessness, bold colors like navy blue or dark green lend a touch of drama to modern homes. Earthy tones such as terracotta or beige can complement rustic or traditional-style houses, blending harmoniously with the natural landscape of Surrey BC.
2. Accentuate with Contrasting Trim
To add depth and character to your home's exterior, Heroistic Homes suggests using contrasting colors for the trim. A white trim against a pastel-colored base can create a visually appealing contrast, making the architectural details pop. On the other hand, a dark trim on a light-colored background can impart a modern and sophisticated appearance.
3. Embrace the Charm of Two-Tone Facades
Two-tone exteriors are gaining popularity as they allow homeowners to express their creativity and break away from traditional design norms. Heroistic Homes encourages experimenting with different color combinations that complement each other and the overall aesthetics of the neighborhood. For instance, pairing a light gray with a subtle blue or a warm beige with a soft green can elevate the exterior's appeal and give it a fresh and vibrant look.
4. Adorn with Textured Finishes
Texture can breathe life into a dull exterior, transforming it into a captivating piece of art. Heroistic Homes offers a range of textured finishes, such as stucco or faux stone, that add dimension and interest to the façade. These finishes not only enhance the visual appeal but also serve as protective layers against weather elements, ensuring the longevity of the exterior paint.
5. Playful Patterns and Designs
For the adventurous homeowners looking to make a bold statement, Heroistic Homes introduces playful patterns and designs into exterior painting ideas. From geometric patterns to artistic murals, these creative approaches can turn your home into a unique and eye-catching masterpiece. While maintaining subtlety is essential, incorporating well-placed patterns can instantly modernize a home's exterior.
6. Create a Timeless Appeal with Traditional Siding
Traditional siding options like shingles or clapboards have a charm that withstands the test of time. Heroistic Homes encourages the use of classic materials, and when painted in carefully selected colors, these siding options can exude an everlasting appeal. Whether you opt for natural wood tones or choose a more contemporary hue, these siding materials can lend your home an authentic and timeless character.
7. The Power of Porch and Front Door Colors
The porch and front door of a house act as welcoming gateways for visitors and deserve special attention. Heroistic Homes recommends selecting colors that complement the overall exterior theme while also adding a touch of individuality. A bold red front door can infuse energy and warmth, while a serene blue can create a calming and inviting ambiance.
8. Embrace Nature with Greens and Earthy Tones
Living in the scenic surroundings of Surrey BC allows homeowners to connect with nature and incorporate earthy and green hues into their exteriors. Heroistic Homes' designers suggest using shades like olive green, warm brown, or deep mustard to create a harmonious blend with the lush greenery of the region.
9. Keep it Classic with Black and White
For those who appreciate a timeless and elegant look, the classic black and white combination never fails. Heroistic Homes uses this ageless palette to create a sophisticated and refined appearance. White walls with black accents can make a striking impact, and the color duo can adapt well to various architectural styles.
10. Highlight Architectural Details with Neutral Tones
When you want the architectural details of your home to take center stage, Heroistic Homes recommends choosing neutral tones for the exterior. These hues, like soft gray or muted beige, provide a beautiful backdrop for showcasing ornate moldings, decorative trims, and other distinctive features.
In conclusion, Heroistic Homes brings forth an array of captivating exterior house painting ideas to elevate your home's curb appeal and make a bold statement in Surrey BC. From vibrant colors to timeless classics, there is something for everyone's unique taste and style. So, if you're ready to transform your dwelling into a work of art, Heroistic Homes is the team to trust for expert guidance and impeccable execution.