How to Deliver Excellence in Plumbing Services- Heroistic Homes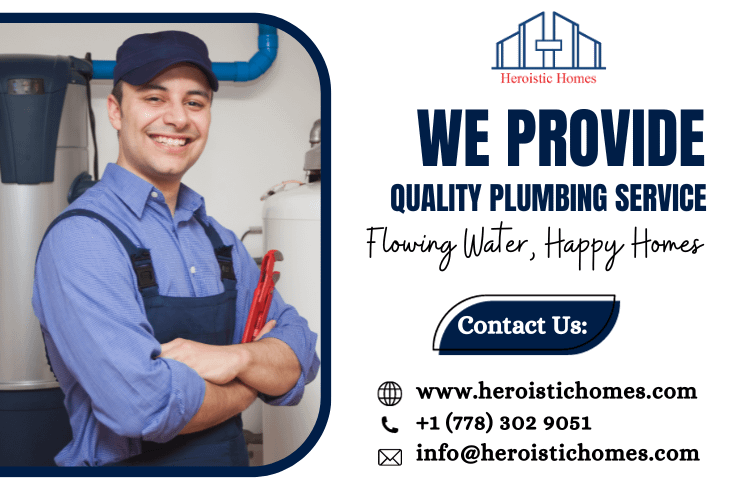 Residential Space
October 3, 2023
In the world of home maintenance and improvement, one aspect that often goes unnoticed but is absolutely critical to our daily lives is plumbing. Our homes' plumbing systems are responsible for delivering clean water for drinking and bathing, as well as ensuring the safe removal of wastewater. When plumbing issues arise, they can disrupt our routines and even lead to costly damage if not addressed promptly. That's where the expertise of Heroistic Homes comes into play.
Understanding the Importance of Plumbing Services
Plumbing is an complex system of pipes, drains, fixtures, and appliances that work together to provide us with essential services. From the moment you turn on the nozzle to the flushing of toilets and the drainage of stormwater, plumbing is an integral part of our homes. However, like any other system, it requires regular maintenance and occasional repairs to keep it functioning at its best.
Heroistic Homes recognizes the importance of a well-maintained plumbing system in every household. Their plumbing services are designed to ensure that your plumbing remains in top-notch condition, leaving you worry-free and confident in the reliability of your home's water supply and drainage.
The Heroistic Homes Difference
Heroistic Homes stands out in the crowded field of plumbing services due to their commitment to excellence and unwavering dedication to customer satisfaction. Here are some key aspects that make them the go-to choice for plumbing services:
1. Expertise and Experience
With years of experience in the industry, Heroistic Homes' plumbing professionals have encountered a wide range of plumbing issues. From common problems like leaks and clogs to more complex installations and repairs, they have the knowledge and skills to tackle any challenge. Their team stays updated with the latest industry advancements to provide you with the best solutions.
2. Comprehensive Services
Heroistic Homes offers a comprehensive range of plumbing services. Whether you need routine maintenance to prevent issues or immediate assistance to resolve an emergency, they have you covered. Their services include leak detection and repair, drain cleaning, pipe replacement, water heater installation, and much more.
3. 24/7 Emergency Support
Plumbing emergencies don't wait for a convenient time to occur. That's why Heroistic Homes provides 24/7 emergency plumbing services. Whether it's a burst pipe in the middle of the night or a backed-up sewer line on a weekend, their team is ready to respond promptly and effectively.
4. Quality Assurance
Heroistic Homes takes pride in their commitment to delivering high-quality workmanship. They use top-of-the-line materials and employ industry best practices to ensure that their plumbing solutions are durable and reliable. This commitment to quality extends to their customer service as well, ensuring a seamless experience from start to finish.
5. Transparent Pricing
One of the common concerns when hiring plumbing services is the fear of hidden costs and unexpected charges. Heroistic Homes addresses this concern by providing transparent pricing. They offer upfront quotes for their services, so you know exactly what to expect, with no surprises on your bill.
6. Eco-Friendly Practices
In an age where sustainability is a top priority, Heroistic Homes is committed to eco-friendly plumbing practices. They offer water-saving solutions, such as low-flow fixtures and tankless water heaters, to help you reduce your environmental footprint while saving on water bills.
7. Customer-Centric Approach
At Heroistic Homes, the customer is at the heart of everything they do. They understand that plumbing issues can be stressful, and they aim to make the process as smooth as possible for their clients. Their friendly and professional team ensures that your concerns are addressed, and your questions are answered.
A Closer Look at Heroistic Homes' Plumbing Services
Now that we've explored what sets Heroistic Homes apart, let's dive deeper into some of the key services they offer:
1. Leak Detection and Repair
A leaking pipe might seem like a minor inconvenience, but it can lead to significant damage if left unaddressed. Heroistic Homes' experts use state-of-the-art equipment to detect leaks accurately and efficiently. Once identified, they proceed with timely repairs, preventing further water damage to your property.
2. Drain Cleaning
Clogged drains are a common household issue, and they can cause slow drainage, foul odors, and even sewage backups. Heroistic Homes uses advanced techniques like hydro-jetting to clear stubborn clogs and ensure your drains flow smoothly.
3. Water Heater Installation and Repair
Your water heater is a vital appliance that provides hot water for bathing, cooking, and cleaning. Heroistic Homes offers installation services for energy-efficient water heaters and can also handle repairs and maintenance to keep your hot water supply consistent and reliable.
4. Pipe Replacement
Old or damaged pipes can lead to leaks and reduced water pressure. Heroistic Homes can replace outdated or deteriorating pipes with modern, durable alternatives, ensuring the long-term integrity of your plumbing system.
5. Emergency Plumbing Services
Plumbing emergencies can happen at any time, and a quick response is crucial to minimizing damage. Heroistic Homes is available around the clock to address emergencies, from burst pipes to sewer line backups, providing peace of mind to homeowners.
6. Fixture Installation and Repairs
Whether you're upgrading your bathroom fixtures or need a new kitchen faucet installed, Heroistic Homes' plumbers have the expertise to handle fixture installations and repairs efficiently.
The Heroistic Homes Promise
In a world where service quality can vary widely, Heroistic Homes stands as a lighting of reliability and professionalism in the plumbing industry. Their commitment to excellence, transparent pricing, and customer-centric approach have earned them a excellent reputation among homeowners.
When you choose Heroistic Homes for your plumbing needs, you're not just hiring a service provider; you're partnering with a team of dedicated professionals who take pride in their work. Their goal is to ensure that your plumbing system remains efficient and trouble-free, allowing you to enjoy the comforts of home without the stress of unexpected plumbing issues.
Conclusion
In the grand scheme of home maintenance, plumbing services may not always be in the spotlight, but they are undeniably vital to our daily lives. Heroistic Homes understands this importance and has made it their mission to deliver excellence in plumbing services.
With their expert team, comprehensive range of services, commitment to quality, and unwavering dedication to customer satisfaction, Heroistic Homes has become a trusted name in plumbing services. They are not just plumbing professionals; they are partners in ensuring the reliability and functionality of your home's plumbing system.
When you choose Heroistic Homes, you're choosing peace of mind, knowing that your plumbing needs are in capable hands. So, the next time you face a plumbing issue or are considering an upgrade, remember that Heroistic Homes is here to deliver excellence in plumbing services, one satisfied customer at a time.