Electrical Contractor Near Surrey, BC: A Guide to Heroistic Homes and Other Top Choices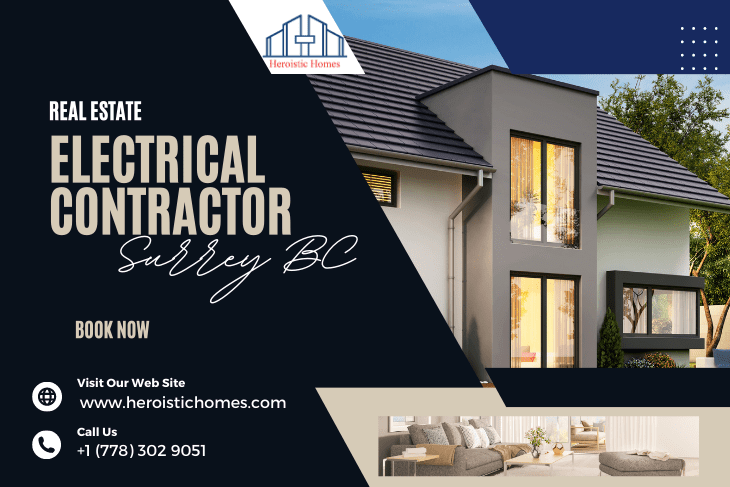 Commercial Construction
July 25, 2023
Electrical Contractor Near Surrey, BC
Electrical contractor play a crucial role in ensuring the safety, efficiency, and functionality of electrical systems in homes and businesses. If you're a Surrey, BC resident or business owner in need of electrical services, it's essential to find reputable and reliable professionals. In this blog, we'll explore the significance of electrical contractors, the importance of hiring licensed experts, and highlight one of the top contractors in the region – Heroistic Homes.
The Importance of Electrical Contractors: Electrical contractors are certified professionals who specialize in the design, installation, repair, and maintenance of electrical systems. From handling routine electrical repairs to executing complex wiring projects, their expertise guarantees that your electrical infrastructure complies with safety standards and local regulations. By entrusting your electrical needs to experienced contractors, you minimize the risk of electrical hazards, fires, and power outages.
Qualities of Reputable Electrical Contractors:
Licensed and Insured: The most crucial aspect of hiring an electrical contractor is ensuring they are licensed and insured. Licensing indicates that the contractor has the necessary skills and training, while insurance protects you from liability in case of accidents or property damage during the project.
Experience and Expertise: Look for contractors with a proven track record of successfully completed projects and extensive experience in the industry. Experienced professionals are more likely to deliver high-quality work and address any challenges effectively.
Safety and Compliance: Electrical work involves potential risks. Reliable contractors adhere to safety protocols and follow local building codes and regulations to ensure safe installations and repairs.
Transparent Pricing: Look for contractors who provide clear and detailed estimates for the project. Avoid those who give vague pricing or pressure you into unnecessary upgrades.
Excellent Reviews and References: Check online reviews and seek recommendations from friends or family to gauge the contractor's reputation and client satisfaction.
Heroistic Homes: Your Trusted Electrical Contractor in Surrey, BC
Heroistic Homes is a distinguished electrical contracting company serving Surrey, BC, and the surrounding areas. With a team of highly skilled and licensed electricians, they offer a wide range of residential and commercial electrical services. Here's why Heroistic Homes stands out:
Professional Expertise: Heroistic Homes prides itself on a team of expert electricians with extensive knowledge and experience. They are equipped to handle projects of varying sizes and complexities.
Safety-Centric Approach: Safety is at the forefront of every project undertaken by Heroistic Homes. They strictly adhere to safety guidelines and use high-quality materials to ensure lasting and secure electrical installations.
Licensed and Insured: Being a licensed and insured electrical contractor, Heroistic Homes gives clients peace of mind, knowing that their property and interests are protected.
Client-Focused Service: Heroistic Homes values their clients and strives to exceed expectations with top-notch customer service. They listen to clients' needs and tailor solutions accordingly.
Diverse Services: From electrical repairs, upgrades, and installations to lighting design and electrical panel inspections, Heroistic Homes offers comprehensive electrical solutions.
Conclusion:
When it comes to electrical work in Surrey, BC, hiring the right contractor is vital for the safety and efficiency of your electrical systems. Heroistic Homes, with its expertise, safety-first approach, and client-focused service, is one of the top choices for electrical contracting in the region. Always remember to look for licensed, experienced, and reputable contractors to ensure your electrical needs are in capable hands. Whether it's routine maintenance or complex installations, relying on professionals like Heroistic Homes will bring you peace of mind and the assurance of a job well done.