Transform Your Home with Expert Home Painting Services in Surrey, BC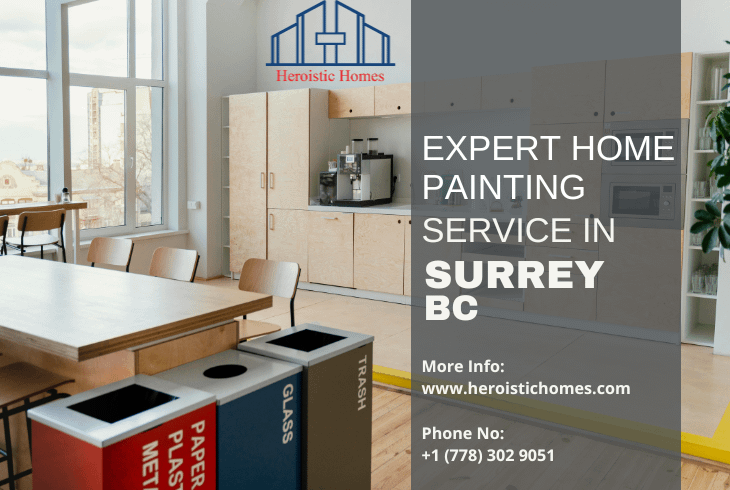 Residential Space
September 7, 2023
Your home is more than just bricks and mortar; it's a reflection of your personality and style. If you're a resident of Surrey, British Columbia, and you're looking to give your home a fresh, vibrant look, Heroistic Homes is here to transform your vision into reality. Heroistic Homes is your trusted partner for professional home painting services in Surrey, BC. In this blog, we'll explore the exceptional services offered by Heroistic Homes and why they are the go-to choice for homeowners in Surrey looking to enhance the beauty of their homes.
The Heroistic Homes Difference
Expertise and Experience
Heroistic Homes boasts a team of highly skilled and experienced painters who are passionate about their craft. With years of experience in the industry, they have perfected the art of home painting, ensuring that every project they undertake is completed to the highest standards. Whether you want to refresh your interior spaces or enhance your home's curb appeal with exterior painting, Heroistic Homes has the expertise to bring your ideas to life.
Quality Materials
When it comes to painting your home, the quality of materials used plays a crucial role in the longevity and appearance of the finish. Heroistic Homes uses only the finest quality paints and supplies to ensure that your home looks stunning for years to come. They work with leading paint brands, offering a wide range of color options to suit your preferences and style.
Personalized Consultation
Every home is unique, and Heroistic Homes understands that your painting project should reflect your individual taste and lifestyle. That's why they offer personalized consultation services. Their team will work closely with you to understand your vision, color preferences, and any specific design elements you have in mind. This ensures that the final result aligns perfectly with your expectations.
Attention to Detail
What sets Heroistic Homes apart is their unwavering commitment to detail. They pay meticulous attention to every aspect of your project, from surface preparation to the final coat of paint. Their painters are trained to spot and address imperfections, ensuring a flawless finish that will leave your home looking immaculate.
Timely and Efficient Service
Heroistic Homes understands the importance of completing your project on time. They strive to minimize disruption to your daily routine and promise to deliver results within the agreed-upon time frame. You can trust them to work efficiently without compromising on quality.
Affordable Pricing
Home improvement projects shouldn't break the bank. Heroistic Homes believes in offering competitive and transparent pricing. They provide detailed quotes so you know exactly what to expect, with no hidden costs or surprises.
Conclusion
Heroistic Homes is your trusted partner for all your home painting needs in Surrey, BC. With their exceptional expertise, commitment to quality, and dedication to customer satisfaction, they have earned a stellar reputation in the community. Whether you're looking to transform the interior of your home, update your exterior's appearance, or simply freshen up your living spaces, Heroistic Homes is the name to trust.
Elevate your home's aesthetics and increase its value with Heroistic Homes' professional painting services. Contact them today to schedule a consultation and embark on a journey to give your home the makeover it deserves. With Heroistic Homes, your dream home is just a brushstroke away!