Premier Home Remodeling and Renovation Services in Surrey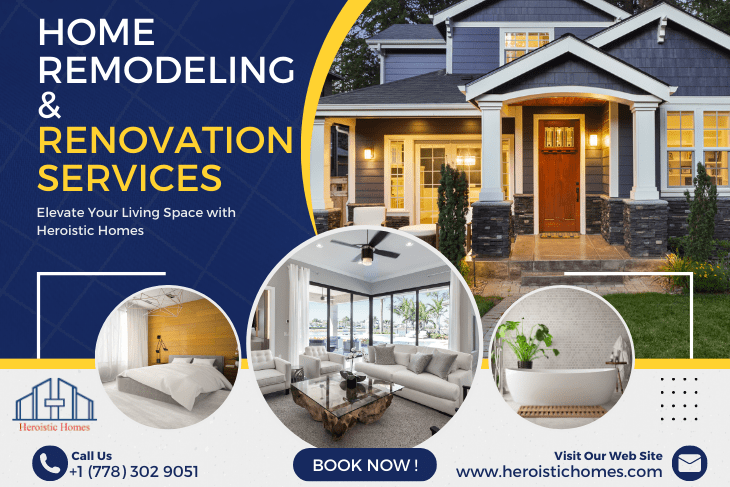 Residential Space
July 20, 2023
Are you dreaming of transforming your home into a stunning masterpiece that reflects your style and enhances your lifestyle? Look no further! Heroistic Homes is your go-to destination for top-notch home remodeling and renovation services in Surrey. With a stellar reputation for excellence, innovation, and customer satisfaction, Heroistic Homes is here to turn your vision into reality.
Unleashing the Potential of Your Home: Why Remodeling and Renovation Matter
Your home is not just a place to live; it's an expression of your personality and a sanctuary where cherished memories are made. Over time, even the most beautifully designed homes may require a makeover to adapt to changing needs, lifestyle preferences, and evolving design trends. Home remodeling and renovation offer a myriad of benefits:
1. Enhanced Aesthetics: A well-executed remodeling project can breathe new life into your living space, making it visually appealing and a reflection of your unique style.
2. Improved Functionality: Heroistic Homes can help optimize your home's layout to maximize space utilization, creating a more functional and efficient environment for daily living.
3. Increased Property Value: A tastefully renovated home adds significant value to your property, making it a sound investment for the future.
4. Energy Efficiency: Upgrading outdated fixtures and appliances during the renovation process can lead to improved energy efficiency, reducing utility costs and promoting sustainability.
The Heroistic Homes Advantage: Why Choose Us
1. Expertise and Experience: Heroistic Homes boasts a team of skilled architects, designers, and craftsmen with years of experience in the industry. From minor upgrades to complete overhauls, our experts have seen it all and can handle any project with finesse.
2. Tailored Solutions: We believe in personalized services that cater to your specific requirements. Our team works closely with you to understand your vision, preferences, and budget, ensuring a seamless remodeling experience.
3. Unmatched Quality: At Heroistic Homes, quality is our hallmark. We use the finest materials, state-of-the-art equipment, and industry-leading practices to deliver results that surpass expectations.
4. Timely Execution: We understand the value of your time, which is why we prioritize timely project completion without compromising on craftsmanship and attention to detail.
5. Transparent Communication: Throughout the remodeling journey, we maintain open and transparent communication with our clients, keeping them informed about progress and any necessary adjustments.
Our Comprehensive Services
Heroistic Homes offers a comprehensive range of remodeling and renovation services, including but not limited to:
1. Kitchen Remodeling: From modernizing your kitchen to optimizing its functionality, our experts can create a culinary space that inspires and delights.
2. Bathroom Renovation: Transform your bathroom into a luxurious retreat with our innovative designs and premium fixtures.
3. Basement Refinishing: Maximize the potential of your basement by converting it into a cozy living area, home office, or entertainment space.
4. Whole-Home Renovation: Whether you're looking to revamp your interiors or enhance your home's curb appeal, our whole-home renovation services cover it all.
5. Custom Additions: Planning to expand your living space? We can seamlessly integrate custom additions to suit your needs and complement your existing structure.
Client Testimonials
"Heroistic Homes surpassed our expectations with their outstanding workmanship and attention to detail. The team was professional, and the entire remodeling process was smooth and hassle-free. We couldn't be happier with the results!"– John and Sarah H., Surrey
"Our kitchen was in desperate need of a makeover, and Heroistic Homes brought it to life. The new design is not only stunning but also highly functional. We highly recommend their services to anyone looking for home remodeling!" – Emily T., Surrey
Contact Heroistic Homes Today!
If you're ready to elevate your living space to new heights, Heroistic Homes is just a call away. Take the first step towards your dream home by reaching out to our friendly team for a consultation.
Visit our website or call us at +1 (778) 302 9051 to schedule an appointment.
Make your home the talk of the town with Heroistic Homes – where craftsmanship meets innovation!