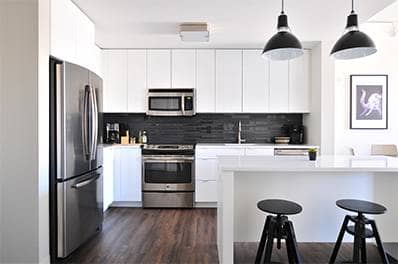 Kitchen Remodel Near Surrey, BC
Elevate your kitchen with our top-notch kitchen remodel service. Experience seamless design, functional layouts, and exquisite craftsmanship for your dream culinary space. The kitchen is the heart of your home. It's where you get together with friends and family, cook meals, and make memories. So when it's time to remodel, you want to make sure that you're getting the best kitchen possible.
Heroistic Homes offers a wide range of services to help you with your kitchen remodeling project. Our skilled architects will carefully program your design in order to maximize space and functionality for your new kitchen design. We offer customizable designs that are both architecturally-inspired and visually appealing. We also offer high-end fittings, so you can feel confident in the quality of our workmanship.
At Heroistic Homes, we focus on customer service. We believe that every client deserves personal attention from us throughout their remodeling process—from initial planning through final installation—to ensure that they have a beautiful kitchen that works for them and their family!
Our team of experienced architects and designers will work with you to create a custom-designed kitchen that reflects your personality and preferences, while also being functional and efficient. We focus on our customers' needs, whether they want a simple redesign or an extravagant remodel. Our goal is to ensure that every client gets the best possible result for their home improvement project.
Is your kitchen in need of a makeover that reflects your culinary style and elevates the heart of your home? Look no further! Heroistic Homes is your premier destination for top-notch kitchen remodeling services near Surrey, BC. Our team of dedicated professionals is committed to transforming your kitchen into a functional and aesthetic space that suits your lifestyle and culinary aspirations.
Why Choose Heroistic Homes for Your Kitchen Remodeling?
1.Expertise and Experience: With years of experience in the industry, our team boasts the expertise and skill set necessary to handle kitchen remodeling projects of all sizes and complexities. From contemporary designs to timeless classics, we have the know-how to cater to your unique taste.
2.Personalized Approach: At Heroistic Homes, we believe in putting you, the homeowner, at the center of the design process. Our designers take the time to understand your needs, preferences, and aspirations to create a customized kitchen design that suits your lifestyle and complements your home.
3.Quality Craftsmanship: We are passionate about delivering exceptional quality in every aspect of our work. From premium materials to skilled craftsmanship, we ensure that your kitchen remodel stands the test of time and meets the highest standards of excellence.
4.Comprehensive Services: Whether you need a complete kitchen overhaul or specific upgrades, we offer a comprehensive range of services to meet your requirements. From cabinets and countertops to flooring and lighting, we handle every detail with precision and care.
5.Transparent Process: Our commitment to transparent communication means that you will be kept informed throughout the remodeling journey. We value your input and work closely with you to ensure that the project aligns with your vision.
6.Timely Delivery and Budget Adherence: We understand that time and budget are crucial factors in any remodeling project. Our team is dedicated to completing the project within the agreed-upon timeline and budget, without compromising on quality.
Our Kitchen Remodeling Services Include:
1.Custom Kitchen Design: Our talented designers work closely with you to conceptualize a kitchen design that optimizes space, enhances functionality, and reflects your personal style.
2.Cabinet Installation and Refacing: Whether you want to revamp your existing cabinets or install brand new ones, our team handles the process with finesse and attention to detail.
3.Countertop Selection and Installation: Choose from a wide range of high-quality countertops, including granite, quartz, and marble, to add elegance and durability to your kitchen.
4.Flooring and Tile Work: Elevate the aesthetics of your kitchen with our expert flooring and tile installation services.
5.Appliance Upgrades: From modern stovetops to state-of-the-art refrigerators, we assist you in selecting and installing the perfect appliances to suit your cooking needs.
6.Plumbing and Electrical Work: Our licensed professionals ensure that all plumbing and electrical aspects are handled with precision and safety in mind.
Revitalize Your Kitchen with Heroistic Homes:
Ready to embark on your kitchen remodeling journey? Contact Heroistic Homes today to schedule a consultation with our kitchen design experts. Let us be your trusted partner in creating a kitchen that embodies functionality, style, and culinary inspiration in your Surrey, BC home. Discover the difference our passion for perfection can make in transforming your kitchen into a culinary haven!