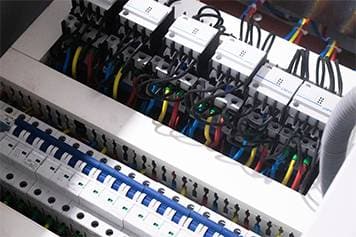 Electrical Contractors near Surrey, BC
At Heroistic Homes, we are a team of experienced and licensed electrical contractors committed to delivering top-quality electrical solutions to our clients in Surrey and the surrounding areas.
Experience excellence in electrical services with our skilled and reliable electrical contractors. Trust us to handle all your electrical needs with precision and expertise. Hiring a professional electrician to take care of your new home is essential. We provide you with practical and smart solutions that take into account your needs, style and space limitations. With our electrical services, you don't have to worry about spending too much on expensive renovations or extension cords because we work efficiently to make sure everything is done properly and in the most cost-effective way for you. 
Heroistic Homes promises you full electrical solutions for your new home, starting from design and installationt to upgrades and repairs.
Our professionals offer comprehensive service starting from planning to final inspection and everything in between. Our goal is to provide the most cherished experience possible when it comes to turning your personal space into a safe and functional home.
Starting with intense research, we have selected only the best electricians who have proven experience and exceptional customer satisfaction ratings. Now there's no need to compare hundreds of companies or do hours of research – we do that for you!
Why ChooseUs?
Expertise and Experience: Our team of electrical contractors brings a wealth of expertise and experience to every project we undertake. We have worked on a wide range of electrical installations, repairs, and maintenance projects, and we stay up-to-date with the latest industry standards and technologies. You can trust us to handle all your electrical needs with precision and professionalism.
Licensed and Insured: Electrical work requires technical knowledge and adherence to safety regulations. Our contractors are fully licensed and insured, providing you with peace of mind knowing that your electrical project is in capable hands. We prioritize safety throughout every step of the process to ensure the well-being of our clients and their properties.
Comprehensive Electrical Services: We offer a wide range of electrical services to meet the needs of both residential and commercial clients. Whether you require electrical installations, upgrades, repairs, rewiring, lighting solutions, panel upgrades, or troubleshooting, our skilled contractors have the expertise to handle it all. We tailor our services to your specific requirements, delivering efficient and reliable solutions.
Attention to Detail: We believe that quality workmanship lies in the details. Our electrical contractors pay meticulous attention to every aspect of the project, ensuring that all connections, wiring, and installations are done correctly and to the highest standards. We prioritize the longevity and safety of your electrical systems, providing you with lasting and dependable solutions.
Timely and Responsive: We understand that electrical issues can disrupt your daily routines and pose potential hazards. That's why we strive to provide prompt and responsive service. Whether you have an emergency situation or need scheduled electrical work, our contractors will arrive on time, assess the situation, and efficiently address your electrical needs to minimize any inconvenience.
Customer Satisfaction: Your satisfaction is our top priority. We are dedicated to providing excellent customer service and building long-lasting relationships with our clients. We take the time to understand your specific requirements and concerns, and we communicate transparently throughout the project. Our goal is to exceed your expectations and ensure your complete satisfaction with our services.
Contact Us Today!
If you're in need of reliable and professional electrical contractors near Surrey, BC, we invite you to get in touch with our team at Heroistic Homes. Whether you have a residential or commercial electrical project, we are here to assist you. Contact us at +1 (778) 302 9051 or email us at info@heroistichomes.com to discuss your electrical needs, schedule a consultation, or obtain a free estimate.
Trust our experienced electrical contractors to deliver exceptional results and provide you with safe, efficient, and reliable electrical solutions. We look forward to being your trusted electrical service provider in Surrey, BC, and helping you achieve your electrical goals.